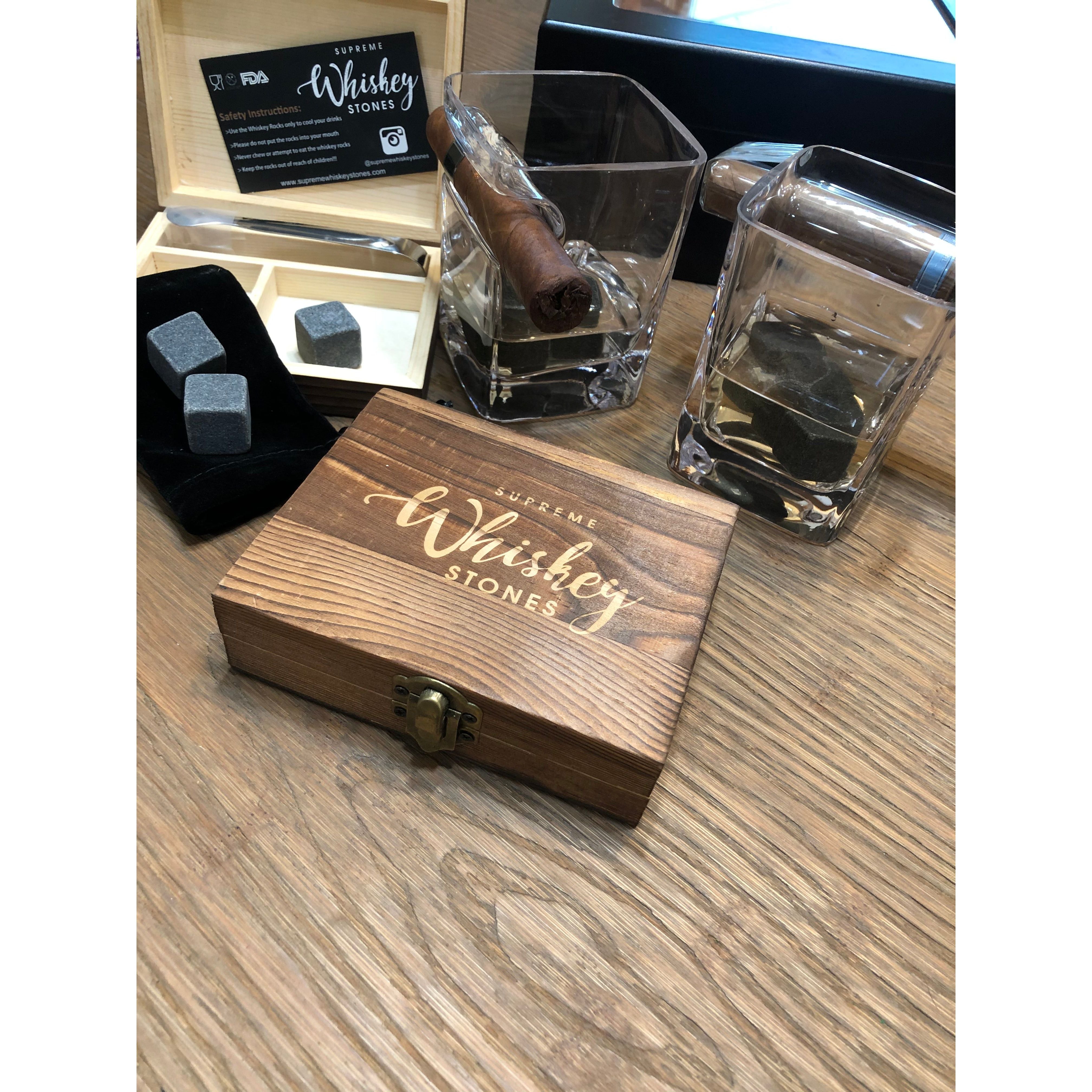 2 Cigar Glasses and 1 Box of Supreme Whiskey Stones
Introducing our ultimate indulgence bundle, designed for the discerning whiskey connoisseur and cigar aficionado. Our carefully curated bundle includes a box of our premium whiskey stones and two exquisite square cigar glasses, ensuring an elevated experience for both your drink and your smoke.

Savor the perfection of your favorite whiskey, beautifully cooled by our whiskey stones. Crafted from high-quality materials, these stones guarantee a chilled sip without diluting your drink. The stones provide the ideal temperature, preserving the integrity of your whiskey's flavors, and allowing you to appreciate every nuanced note.

Enhancing the experience further, our two square cigar glasses are ingeniously crafted to not only hold your drink but also cradle your cherished cigar. With a specially designed cigar rest, you can keep your cigar conveniently within reach while you sip and savor your drink. The glasses are meticulously crafted to accentuate the aroma and taste of your whiskey, ensuring a moment of pure indulgence.

Please note that this bundle does not include cigars, allowing you the freedom to select and enjoy your preferred cigar of choice. It's the perfect opportunity to combine your love for fine whiskey and the pleasure of a hand-rolled cigar.

Treat yourself or surprise a whiskey and cigar enthusiast in your life with this thoughtfully curated bundle. Elevate your moments of relaxation, celebration, or quiet contemplation with our whiskey stones and square cigar glasses. Experience the harmonious union of exceptional drinks, elegant glassware, and the refined pleasure of a fine cigar.