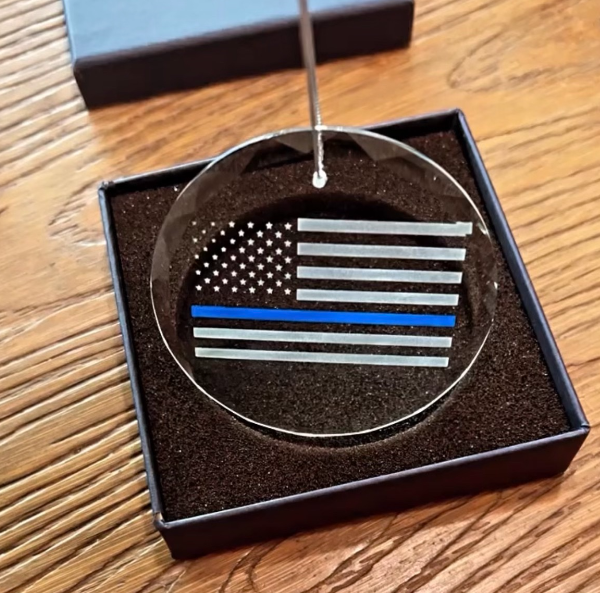 Thin Blue Line Christmas Ornament
Introducing our exquisite Glass Christmas Ornament, a perfect blend of craftsmanship and holiday charm. This unique ornament features a delicate glass sphere adorned with a sleek, laser-engraved thin blue line, symbolizing a touch of elegance and holiday spirit, specifically dedicated to honoring the service of Law Enforcement Officers.

The thin blue line holds a special significance, representing our heartfelt appreciation for the dedication and service of Law Enforcement Officers. What makes this ornament even more special is the option for personalization. We can customize any ornament with the badge and number of your favorite Law Enforcement Officer, creating a truly unique and meaningful keepsake.

But that's not all - our commitment to honoring service extends beyond the thin blue line. We proudly offer personalization options for all military branches, allowing you to celebrate the heroes in your life with a customized ornament tailored to their service. Additionally, we pay tribute to the bravery of firefighters with the option of the thin red line, symbolizing their selfless dedication to protecting our communities.

Meticulously crafted, each ornament undergoes a meticulous hand-painting process, ensuring the precision and artistry that make it a standout addition to your festive decor. Hang these radiant ornaments on your tree, and watch as they catch and reflect the twinkling lights, creating a captivating play of colors.

Elevate your holiday décor with our Glass Christmas Ornaments – where craftsmanship meets celebration, and every detail tells a personalized story of appreciation and admiration for those who serve and protect.