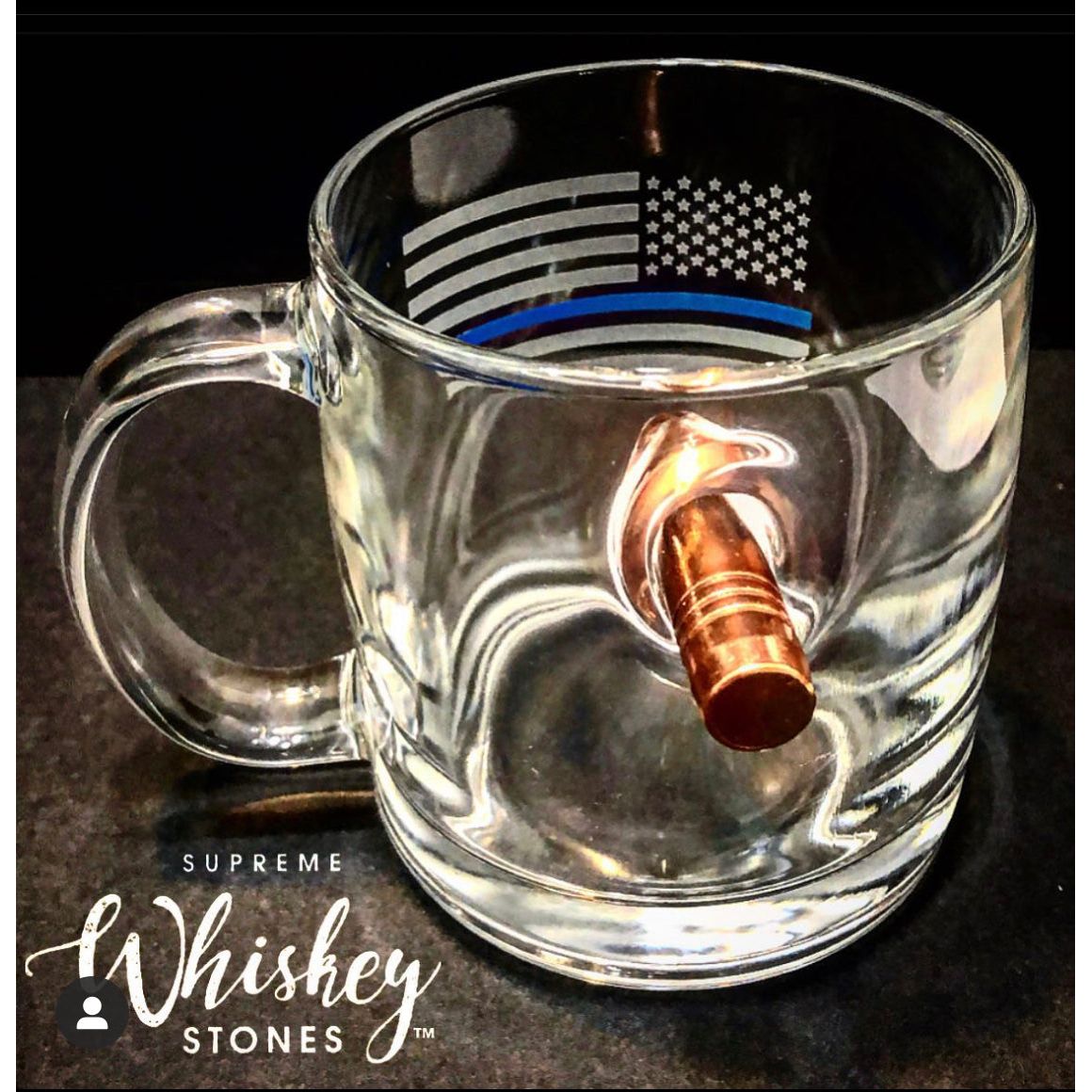 Thin Blue Line Coffee Mug with bullet
Introducing our remarkable Thin Blue Line Coffee Mug, an ideal gift for your favorite officer, new graduate, or retiree. This mug is a perfect tribute to the dedication and sacrifice of law enforcement professionals.

Customization is at the heart of this coffee mug, as it can be laser engraved and personalized with any Law Enforcement Badge, Logo, Unit, Shield, or custom artwork of your choice. The possibilities for customization are truly endless, allowing you to create a one-of-a-kind piece that holds personal meaning and significance.

Adding to its unique appeal, this mug features a lead-free .50 caliber BMG bullet embedded on the side. This distinctive detail represents strength and resilience, underscoring the unwavering commitment of our law enforcement community.

In addition to being a thoughtful gift, our Thin Blue Line Coffee Mug also serves as a great service award, recognizing the dedication and commitment displayed by law enforcement personnel. It is a token of appreciation that will be cherished for years to come.

Be sure to visit our Instagram or Facebook pages to explore examples of our custom work and gain inspiration for your own unique design.

Embrace the opportunity to honor law enforcement and showcase their proud heritage with our Thin Blue Line Coffee Mug. Whether you're celebrating milestones, expressing gratitude, or capturing the essence of a special unit or shield, this customizable mug, with its embedded .50 caliber BMG bullet, is the perfect canvas for your heartfelt sentiments.

Personalize your gift and make a lasting impression with our Thin Blue Line Coffee Mug. Let it serve as a daily reminder of the courage, dedication, and sacrifice demonstrated by our law enforcement community.